Perhaps the title "Credit Repair vs Tradelines" is not entirely accurate, but this is a common way that many consumers think of the two industries and even many credit repair companies as well. In truth, as our infographic illustrates, the two services really go hand-in-hand.
However, there are several differences that we will highlight in order to understand the full range of credit-related options. Be sure to check out our article below the infographic for all the details.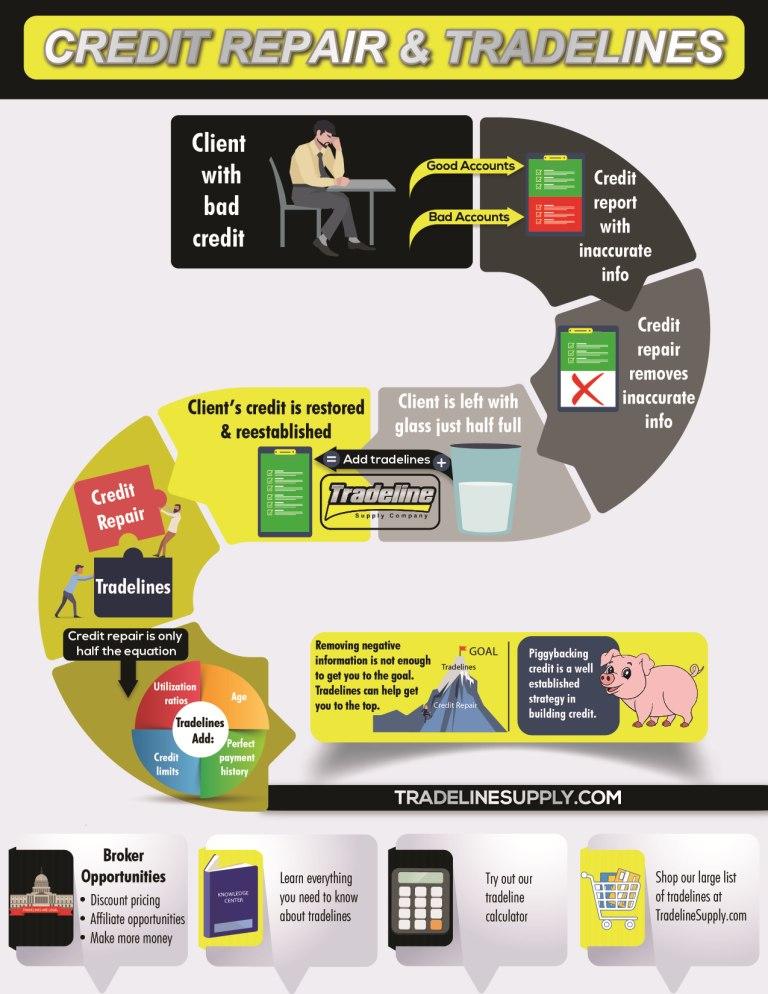 Understanding Credit Repair
The term "credit repair" can have different definitions depending on who you ask. Generally, however, credit repair is considered to be the process of mending poor credit that is a result of errors in your credit report or identity theft. This is accomplished by disputing inaccurate information in your credit file with the credit bureaus, who will investigate the claim and take appropriate action.
Sometimes people also use the term credit repair to mean fixing bad credit in general, using traditional methods such as bringing all accounts current and paying down debts.
For those who are seeking credit repair services through a company, you are probably interested in the process of repairing bad credit by disputing inaccurate negative information in your credit file. If your credit score is lower than the average range, going to a credit repair business may seem like an appealing option.
However, keep in mind that credit repair has its limitations. Since credit repair services focus on removing information from your credit file, once that is accomplished, there may not be much left in your file to show that you have a credit history at all. This is especially true of questionable credit repair companies who use dishonest methods to aggressively "sweep" your credit file of legitimate information.
In order to truly improve your credit score, it is important not only to remove inaccurate negative information but to also work on rebuilding your credit.
Tradelines vs. Credit Repair: What's the Difference?
Addition and Subtraction
As we discussed above, credit repair can be thought of as the process of removing negative information from your credit report. In contrast, tradelines add information to your credit report.
A tradeline is simply any account in your credit file, so adding tradelines by definition bulks up your file. This can be helpful for people with short or thin credit histories, or those who are recovering from a period of bad credit and trying to rebuild their credit.
A short credit history means the age of your credit file is not very long, while a thin credit history means you have only a few accounts, if any. Credit scoring models factor in both the length of your credit history and your mix of credit, so having a thin or short credit file will likely result in a lower credit score rating.
Adding tradelines that are in good standing and have a higher age (known as "seasoned" tradelines) would improve both of these factors by increasing your length of credit history and diversifying your mix of accounts.
In addition, seasoned tradelines for sale from a reputable company will have perfect payment histories and relatively low utilization, which also impact important components of your credit score.
How Long Does It Take to See Results?
The credit repair process typically takes 1-6 months or longer, depending on how many disputes you need to make. Once you submit your disputes to the credit bureaus, they have 30 days to research the dispute and 5 more days to respond once they have completed the investigation. Sometimes, additional information may be needed, which can add more time to the process.
If you have a lot of errors to dispute, you may have to submit them a few at a time, which is why getting results can take several months.
Tradelines, however, can post to your credit report in as few as 11 days, and sometimes even faster. It just depends on the reporting period of the tradeline you are adding.
How Credit Repair and Tradelines Work Together to Fix Your Credit
Credit repair and tradelines naturally go hand-in-hand. In one sense, tradelines pick up right where credit repair ends. Again, credit repair helps to "clean up" credit and tradelines help build or re-establish positive credit history.
One really should not exist without the other; the two techniques are most effective if done in tandem. Since credit repair removes information from your credit file, it may be necessary to add positive information to your file in the form of tradelines in order to truly rebuild your credit.
Buy Tradelines or Fix My Credit: Which Should I Do First?
It does not necessarily matter which one comes first. Both can exist at the same time.
However, if derogatory information exists in your credit report, those variables will have an impact on your overall credit picture and could lead to tradelines having a diminished effect. In this case, the most effective course of action would be to repair your credit before adding tradelines.
On the other hand, it is never a bad time to have good things on your credit report. The timing of which strategy should come first ultimately depends on your individual situation and your own timeline.
For example, some credit repair programs take quite some time to accomplish. As we mentioned, is not uncommon for certain credit repair programs to take many months to complete. In these cases, tradelines may fit in at any given time during the credit repair process.
Why Don't All Credit Repair Companies Offer Tradelines?
Surprisingly, not all credit repair companies sell tradelines or even know about tradelines. Sometimes tradeline companies are seen as competition to credit repair businesses because clients may end up spending money on tradelines as opposed to credit repair services.
However, as we have seen, credit repair works best when paired with tradelines. The best credit repair companies will provide you with all of the information and options that you need to make an informed decision about your financial future.
Conclusion
While tradelines and credit repair can both be effective in improving your credit, they are not the same thing. Rather, they are complementary strategies that work best when used together.
Don't mistake tradelines for credit repair—think of tradelines as a way to build or re-establish credit. The best course of action for your credit is to evaluate your own unique situation and ask how tradelines can complement your credit repair strategy.