---
Broker tradelines to your clients at your prices.
Array
(
)

Sign up for wholesale tradelines access.
BECOME A TRADELINE BROKER
Follow these steps to become a tradeline broker partner.
#1 – Submit Application
Apply on this page to start the white label application.
There are no fees to join and it is easy to qualify.
#2 – Send Documentation
Return a completed application and business documentation.
Easy approvals in as little as one business day.
#3 – Place Orders
Sell our tradelines under your company name.
Set your own tradeline prices and profit margins.
TRADELINE SELLING BENEFITS
Want to help your clients acquire tradelines? Join the broker program and earn these benefits:
Access the largest marketplace
Build a new sales channel
Empower with high closing rates
BROKER PRICING
Brokers are eligible to receive the following discounted pricing based on the annual volume of orders.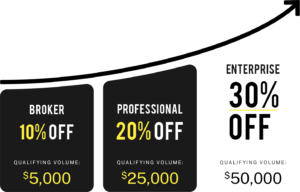 Once you reach a qualifying sales volume, you will receive the corresponding discount for the rest of the current year and the next calendar year. At the beginning of each calendar year, your volume resets to $0, but your discount status will carry over from the previous year.
Example: If in year 1 you qualify as a Professional, you will receive the Professional level discount (20% off) for the duration of year 1 and all of year 2. You will need to maintain at least $25,000 in sales volume in year 2 in order to receive the Professional discount again in year 3.
WHAT BROKERS ARE SAYING
Tradeline Supply Company is one of the leaders in the tradeline space and has helped innovate the process of buying and selling tradelines.–GetLasso.co