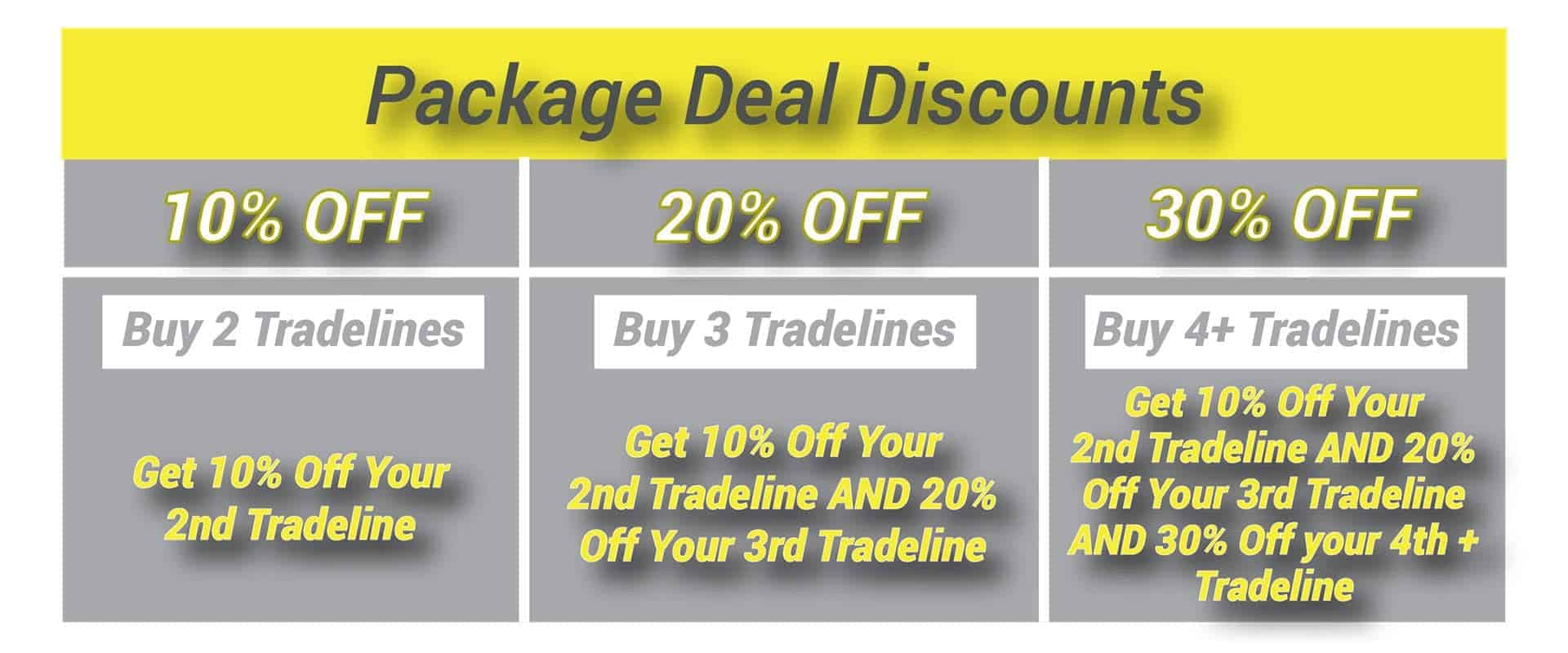 **Note: Package Deal Discounts will automatically update in your shopping cart when you enter the discount code "PKGDEAL". Tradeline packages will automatically get put in the order of highest to lowest priced tradelines, then the discounts will be applied.
How To Purchase
Step 1: Pick the tradelines you want and add them to the cart.
Step 2: Click on the cart in the top right corner to go to checkout where you upload a color copy of driver's license and social security card for verification.
Step 3: Click through to E-Sign agreement, enter your information and pay online.
Once your order is placed you are done and your tradeline will post during the reporting period. Please note that you must purchase the tradeline by the "Purchase By Date" in order for us to guarantee that it will post during the next reporting period.  We guarantee your tradelines will post to at least 2 out of the 3 bureaus and you will remain active on the tradeline for 2 monthly reporting cycles.  Sorry, we do not work with CPN's or business credit.
Click The Top Headers On The List To Sort By That Column
Bank Name

Bank Name

Bank that issues the tradeline

Card ID

Tradeline Supply Company's internal card ID number's. This is the best way to communicate which tradeline you are referring to when calling or emailing us.

Credit Limit

The credit limit of the tradeline

Date Opened

Date the tradeline was opened

Purchase By Date

The last day to purchase the tradeline to guarantee it will report during the next reporting period. You can still purchase the tradeline after the add by date, but it won't be guaranteed to report until the next reporting period. Example: If the "Purchase By Date" is the 5th and the Reporting Period is the 16th -23rd as long as you buy the tradeline on or before the 5th we guarantee that it will post between the 16th – 23rd of that month. If you purchase this tradeline after the 5th then our guarantee of posting moves to the Reporting Period on the following month.

Reporting Period

These are the possible dates your tradeline will post. Please allow the full 7 day window of time before contacting us with any questions or concerns regarding your posting. Also, make sure you buy the tradeline by the Purchase By Date to be guaranteed to post on the next Reporting Period.

Availability

Amount of spots left for sale

Price

Price before any discounts

Add Individual to Cart

$

575.00
Discover
6304
7,900
2008 Jul
28th
10th-17th

2 in stock

$

575.00

$

575.00
Capital One
6294
11,000
2011 Jul
5th
16th-23rd

2 in stock

$

575.00

$

800.00
Chase
6293
15,000
1999 Sep
1st
12th-19th

2 in stock

$

800.00

$

525.00
Elan
6292
23,000
2014 Nov
17th
28th-5th

1 in stock

$

525.00

$

700.00
Chase
3664
42,500
2016 Oct
21st
3rd-10th

2 in stock

$

700.00

$

500.00
Chase
6260
27,000
2016 Oct
3rd
14th-21st

2 in stock

$

500.00

$

575.00
Chase
6259
15,400
2013 Apr
5th
16th-23rd

2 in stock

$

575.00

$

500.00
Chase
6258
10,000
2014 Jan
23rd
5th-12th

2 in stock

$

500.00

$

350.00
Chase
6248
12,000
2016 May
2nd
13th-20th

2 in stock

$

350.00

$

525.00
Chase
6272
14,400
2013 May
26th
8th-15th

2 in stock

$

525.00

$

400.00
Capital One
6271
3,800
2012 Apr
26th
8th-15th

1 in stock

$

400.00

$

250.00
Chase
6216
5,000
2016 Nov
28th
10th-17th

1 in stock

$

250.00

$

700.00
Chase
3402
10,700
2007 Sep
20th
2nd-9th

1 in stock

$

700.00

$

575.00
Bank Of America
3401
11,200
2011 Nov
15th
26th-3rd

1 in stock

$

575.00

$

375.00
Discover
6228
4,845
2013 Aug
1st
12th-19th

2 in stock

$

375.00

$

350.00
Barclays
6227
11,000
2016 Dec
16th
27th-4th

2 in stock

$

350.00

$

500.00
Capital One
6226
7,250
2012 Jun
25th
7th-14th

2 in stock

$

500.00

$

475.00
Capital One
6206
4,500
2007 Jul
2nd
13th-20th

2 in stock

$

475.00

$

350.00
USAA
6205
13,200
2017 Jun
13th
24th-1st

2 in stock

$

350.00

$

650.00
Barclays
6204
10,000
2008 Jan
22nd
4th-11th

4 in stock

$

650.00

$

700.00
USAA
6194
15,700
2009 Oct
8th
19th-26th

2 in stock

$

700.00

$

600.00
Barclays
6184
10,000
2009 Nov
1st
12th-19th

2 in stock

$

600.00

$

600.00
Chase
6183
30,000
2017 May
28th
10th-17th

2 in stock

$

600.00

$

650.00
Discover
6182
10,000
2008 Jun
24th
6th-13th

2 in stock

$

650.00

$

750.00
Capital One
6172
11,500
2002 Feb
7th
18th-25th

2 in stock

$

750.00

$

500.00
Capital One
5029
9,500
2011 Sep
2nd
13th-20th

1 in stock

$

500.00

$

425.00
Capital One
6140
2,000
2007 Apr
8th
19th-26th

2 in stock

$

425.00

$

375.00
Capital One
6139
2,000
2011 Jan
30th
11th-18th

2 in stock

$

375.00

$

600.00
Elan
6129
20,000
2014 Feb
20th
31st-8th

1 in stock

$

600.00

$

325.00
Chase
6109
9,000
2015 May
13th
24th-1st

2 in stock

$

325.00

$

500.00
Chase
6099
7,500
2012 Aug
23rd
5th-12th

2 in stock

$

500.00

$

375.00
Capital One
6097
18,000
2016 Feb
24th
6th-13th

1 in stock

$

375.00

$

650.00
Chase
6086
13,000
2006 Feb
28th
10th-17th

1 in stock

$

650.00

$

525.00
Discover
6075
11,200
2013 Jun
2nd
13th-20th

2 in stock

$

525.00

$

500.00
Chase
6085
10,000
2013 Nov
25th
7th-14th

2 in stock

$

500.00

$

300.00
Chase
6054
9,000
2016 Feb
14th
25th-2nd

1 in stock

$

300.00

$

750.00
Capital One
5124
10,000
2005 Jan
7th
18th-25th

1 in stock

$

750.00

$

650.00
Discover
5123
15,000
2011 Apr
30th
11th-18th

2 in stock

$

650.00

$

750.00
Chase
5122
15,900
2005 Mar
28th
10th-17th

2 in stock

$

750.00

$

300.00
Chase
5112
2,100
2013 Dec
14th
25th-2nd

1 in stock

$

300.00

$

475.00
Capital One
5102
6,000
2010 Apr
13th
24th-1st

2 in stock

$

475.00

$

300.00
Barclays
3564
8,850
2017 Mar
22nd
4th-11th

2 in stock

$

300.00

$

300.00
Barclays
5071
7,900
2015 Nov
11th
22nd-29th

3 in stock

$

300.00

$

600.00
Capital One
3484
15,000
2011 Mar
4th
15th-22nd

1 in stock

$

600.00

$

375.00
Capital One
4096
5,000
2014 May
5th
16th-23rd

2 in stock

$

375.00

$

275.00
Chase
4095
7,500
2016 Nov
12th
23rd-30th

1 in stock

$

275.00

$

475.00
Barclays
4082
7,800
2012 Nov
25th
7th-14th

6 in stock

$

475.00

$

600.00
Barclays
4081
12,000
2010 Jun
30th
11th-18th

5 in stock

$

600.00

$

700.00
Discover
4070
8,000
2003 Oct
21st
3rd-10th

1 in stock

$

700.00

$

275.00
Chase
4059
4,000
2016 May
10th
21st-28th

1 in stock

$

275.00

$

450.00
Barclays
4057
9,500
2013 Dec
5th
16th-23rd

3 in stock

$

450.00

$

650.00
Chase
4041
10,000
2008 Sep
2nd
13th-20th

2 in stock

$

650.00

$

525.00
Barclays
2861
21,000
2015 Dec
30th
11th-18th

6 in stock

$

525.00

$

575.00
Chase
4019
17,284
2013 Mar
6th
17th-24th

1 in stock

$

575.00

$

425.00
Capital One
3976
6,000
2012 Apr
15th
26th-3rd

2 in stock

$

425.00

$

525.00
Chase
3964
11,500
2013 Jan
30th
11th-18th

2 in stock

$

525.00

$

350.00
Elan
3954
18,000
2017 Mar
19th
1st-7th

1 in stock

$

350.00

$

475.00
Discover
3953
21,500
2017 Jul
12th
23rd-30th

1 in stock

$

475.00

$

350.00
Barclays
3943
15,000
2016 Sep
15th
26th-3rd

3 in stock

$

350.00

$

600.00
Chase
3941
37,000
2017 Aug
2nd
13th-20th

1 in stock

$

600.00

$

395.00
Barclays
3930
21,000
2017 Jun
6th
17th-24th

6 in stock

$

395.00

$

350.00
Barclays
2482
10,500
2017 Jan
24th
6th-13th

6 in stock

$

350.00

$

600.00
Chase
3775
30,000
2015 Aug
9th
20th-27th

1 in stock

$

600.00

$

475.00
Chase
3221
20,000
2017 Feb
4th
15th-22nd

2 in stock

$

475.00

$

265.00
Barclays
3899
15,000
2017 May
1st
12th-19th

2 in stock

$

265.00

$

475.00
Discover
3886
4,500
2008 Jul
8th
19th-26th

2 in stock

$

475.00

$

700.00
Chase
3885
9,000
2003 Jul
5th
16th-23rd

2 in stock

$

700.00

$

800.00
Chase
3428
20,000
2006 Apr
6th
17th-24th

1 in stock

$

800.00

$

900.00
Chase
3853
27,500
2005 Aug
10th
21st-28th

1 in stock

$

900.00

$

425.00
Chase
3841
7,000
2012 Jan
3rd
14th-21st

1 in stock

$

425.00

$

425.00
Discover
3840
15,000
2014 Oct
24th
6th-13th

2 in stock

$

425.00

$

450.00
Chase
3830
5,000
2010 Aug
22nd
4th-11th

1 in stock

$

450.00

$

550.00
Capital One
3828
10,000
2012 Apr
11th
22nd-29th

2 in stock

$

550.00

$

300.00
Chase
3827
5,000
2014 Aug
14th
25th-2nd

1 in stock

$

300.00

$

350.00
Capital One
3817
10,000
2017 Jan
28th
10th-17th

3 in stock

$

350.00

$

500.00
Chase
3816
11,000
2013 Oct
7th
18th-25th

1 in stock

$

500.00

$

600.00
Barclays
3796
30,000
2015 Mar
7th
18th-25th

3 in stock

$

600.00

$

550.00
Capital One
3785
9,500
2009 Sep
16th
27th-4th

1 in stock

$

550.00

$

400.00
Barclays
3763
12,500
2014 Jun
30th
11th-18th

4 in stock

$

400.00

$

375.00
Discover
3752
4,500
2012 Apr
5th
16th-23rd

1 in stock

$

375.00

$

475.00
Barclays
3750
20,000
2017 Mar
25th
7th-14th

4 in stock

$

475.00

$

825.00
Bank Of America
3727
25,000
2003 May
4th
15th-22nd

2 in stock

$

825.00

$

550.00
Chase
3717
6,900
2008 Jul
14th
25th-2nd

2 in stock

$

550.00

$

600.00
Capital One
3716
23,000
2013 Jun
25th
7th-14th

2 in stock

$

600.00

$

425.00
Capital One
3715
2,000
2006 Dec
4th
15th-22nd

1 in stock

$

425.00

$

725.00
Chase
3704
15,000
2006 Mar
8th
19th-26th

1 in stock

$

725.00

$

350.00
Chase
3694
13,600
2016 Mar
27th
9th-16th

1 in stock

$

350.00

$

475.00
Barclays
3684
10,000
2013 Jul
14th
25th-2nd

5 in stock

$

475.00

$

475.00
Chase
3683
12,000
2013 Jul
10th
21st-28th

2 in stock

$

475.00

$

350.00
Discover
3673
19,500
2017 Apr
20th
2nd-9th

2 in stock

$

350.00

$

550.00
Capital One
3663
13,000
2011 Oct
8th
19th-26th

1 in stock

$

550.00

$

650.00
Capital One
3653
7,000
2004 May
1st
12th-19th

1 in stock

$

650.00

$

775.00
Discover
3652
10,900
2004 Nov
22nd
4th-11th

2 in stock

$

775.00

$

425.00
Bank Of America
2684
20,000
2016 Dec
13th
24th-1st

1 in stock

$

425.00

$

325.00
Barclays
2821
20,000
2018 Aug
22nd
4th-11th

6 in stock

$

325.00

$

500.00
Chase
3641
10,000
2014 May
21st
3rd-10th

2 in stock

$

500.00

$

550.00
Chase
3640
13,000
2012 Nov
21st
3rd-10th

2 in stock

$

550.00

$

250.00
Chase
3630
4,300
2016 Aug
10th
21st-28th

2 in stock

$

250.00

$

350.00
Barclays
3629
15,000
2016 Oct
24th
6th-13th

7 in stock

$

350.00

$

350.00
Barclays
3619
10,000
2016 Nov
14th
25th-2nd

6 in stock

$

350.00

$

400.00
Chase
3618
10,000
2014 Dec
7th
18th-25th

1 in stock

$

400.00

$

400.00
Barclays
3617
10,000
2014 Dec
7th
18th-25th

5 in stock

$

400.00

$

600.00
Capital One
3233
15,000
2013 Jun
10th
21st-28th

1 in stock

$

600.00

$

350.00
Chase
3595
10,000
2016 Oct
30th
11th-18th

1 in stock

$

350.00

$

600.00
Capital One
3594
20,000
2013 Nov
23rd
5th-12th

1 in stock

$

600.00

$

800.00
Discover
3584
14,700
2006 Oct
7th
18th-25th

2 in stock

$

800.00

$

350.00
Chase
3574
13,400
2016 Dec
27th
9th-16th

2 in stock

$

350.00

$

475.00
Chase
3573
22,500
2016 Oct
16th
27th-4th

2 in stock

$

475.00

$

350.00
Chase
3542
10,000
2016 May
2nd
13th-20th

1 in stock

$

350.00

$

400.00
Barclays
3531
12,500
2014 Dec
7th
18th-25th

5 in stock

$

400.00

$

750.00
Capital One
3190
10,000
2008 Apr
28th
10th-17th

2 in stock

$

750.00

$

275.00
Barclays
1164
25,000
2018 Aug
23rd
5th-12th

1 in stock

$

275.00

$

325.00
Capital One
2220
10,000
2016 May
11th
22nd-29th

1 in stock

$

325.00

$

350.00
Barclays
3501
10,000
2017 Jan
13th
24th-1st

3 in stock

$

350.00

$

400.00
Discover
3491
10,900
2014 Feb
3rd
14th-21st

3 in stock

$

400.00

$

700.00
Chase
3254
12,000
2005 Oct
18th
29th-6th

1 in stock

$

700.00

$

450.00
Discover
3427
8,200
2013 May
29th
10th-17th

1 in stock

$

450.00

$

400.00
Barclays
3424
10,000
2013 Sep
13th
24th-1st

4 in stock

$

400.00

$

475.00
Bank Of America
3400
21,300
2016 May
17th
28th-5th

1 in stock

$

475.00

$

275.00
Chase
3390
5,000
2016 Nov
12th
23rd-30th

1 in stock

$

275.00

$

275.00
Chase
3388
5,000
2016 May
26th
8th-15th

1 in stock

$

275.00

$

400.00
Chase
3387
10,600
2014 Jan
3rd
14th-21st

2 in stock

$

400.00

$

450.00
Chase
3377
33,000
2017 Nov
3rd
14th-21st

1 in stock

$

450.00

$

600.00
Chase
3356
35,000
2016 Feb
17th
28th-5th

2 in stock

$

600.00

$

365.00
Barclays
3344
17,000
2016 Mar
16th
27th-4th

2 in stock

$

365.00

$

350.00
Barclays
3342
12,000
2016 Jan
30th
11th-18th

4 in stock

$

350.00

$

500.00
Chase
3341
10,000
2013 Jul
14th
25th-2nd

2 in stock

$

500.00

$

350.00
Capital One
3331
10,000
2016 Mar
4th
15th-22nd

1 in stock

$

350.00

$

700.00
Chase
3265
14,000
2007 Nov
2nd
13th-20th

2 in stock

$

700.00

$

625.00
Discover
3310
5,800
2006 Jan
30th
11th-18th

2 in stock

$

625.00

$

400.00
Chase
3299
10,000
2015 Feb
16th
27th-4th

2 in stock

$

400.00

$

700.00
Chase
3298
10,500
2006 Dec
20th
2nd-9th

2 in stock

$

700.00

$

375.00
Discover
3297
15,300
2015 Mar
7th
18th-25th

2 in stock

$

375.00

$

265.00
Chase
3275
3,500
2016 Aug
20th
2nd-9th

1 in stock

$

265.00

$

350.00
Chase
3253
11,000
2015 Jun
5th
16th-23rd

1 in stock

$

350.00

$

475.00
Chase
3231
20,000
2016 Apr
16th
27th-4th

2 in stock

$

475.00

$

525.00
Chase
3220
20,000
2015 Feb
4th
15th-23rd

2 in stock

$

525.00

$

750.00
Barclays
3219
10,000
2006 Oct
6th
17th-24th

2 in stock

$

750.00

$

400.00
Barclays
3218
10,000
2014 Dec
30th
11th-18th

4 in stock

$

400.00

$

350.00
Barclays
3216
10,000
2015 Apr
23rd
5th-12th

1 in stock

$

350.00

$

550.00
Chase
3205
10,000
2012 Sep
22nd
4th-11th

2 in stock

$

550.00

$

600.00
Barclays
3203
20,000
2014 May
13th
24th-1st

5 in stock

$

600.00

$

250.00
Barclays
2716
4,520
2016 Feb
13th
24th-1st

2 in stock

$

250.00

$

775.00
Barclays
3180
14,500
2005 Mar
15th
26th-3rd

3 in stock

$

775.00

$

350.00
Chase
3179
10,000
2015 Dec
12th
23rd-30th

1 in stock

$

350.00

$

450.00
Chase
3168
31,000
2017 Mar
9th
20th-27th

2 in stock

$

450.00

$

750.00
Barclays
3157
10,000
2004 Aug
24th
6th-13th

2 in stock

$

750.00

$

525.00
Chase
3147
24,000
2016 Jan
28th
10th-17th

1 in stock

$

525.00

$

700.00
Bank Of America
3134
15,000
2010 Feb
24th
6th-13th

1 in stock

$

700.00

$

475.00
Elan
1279
38,700
2017 May
19th
1st-8th

1 in stock

$

475.00

$

475.00
Elan
2191
22,500
2016 Dec
19th
30th-7th

3 in stock

$

475.00

$

725.00
Bank Of America
3131
25,000
2013 Apr
16th
27th-4th

1 in stock

$

725.00

$

700.00
Chase
3121
13,100
2009 Nov
15th
26th-3rd

1 in stock

$

700.00

$

795.00
Chase
3087
17,200
2009 May
20th
2nd-9th

2 in stock

$

795.00

$

350.00
Barclays
2885
20,000
2017 Apr
1st
12th-19th

6 in stock

$

350.00

$

350.00
Capital One
3067
10,000
2015 Nov
13th
24th-1st

1 in stock

$

350.00

$

900.00
Barclays
3045
30,000
2013 Aug
1st
12th-19th

4 in stock

$

900.00

$

800.00
Discover
3044
16,000
2007 May
2nd
13th-20th

2 in stock

$

800.00

$

350.00
Barclays
2496
14,500
2016 Dec
2nd
13th-20th

3 in stock

$

350.00

$

650.00
Chase
2497
29,500
2016 May
2nd
13th-20th

1 in stock

$

650.00

$

475.00
Capital One
3001
8,500
2012 Jan
12th
23rd-30th

2 in stock

$

475.00

$

550.00
Barclays
2990
11,300
2012 Jun
6th
17th-24th

5 in stock

$

550.00

$

950.00
Capital One
2969
30,000
2004 Oct
6th
17th-24th

1 in stock

$

950.00

$

425.00
Discover
2955
10,500
2015 May
1st
11th- 18th

2 in stock

$

425.00

$

375.00
Barclays
1160
30,000
2018 Jul
11th
22nd-29th

4 in stock

$

375.00

$

650.00
Chase
2932
5,300
2008 Oct
26th
8th-15th

2 in stock

$

650.00

$

600.00
Capital One
2918
12,500
2010 Oct
7th
18th-25th

1 in stock

$

600.00

$

700.00
Chase
2907
15,000
2008 Jan
27th
9th-16th

1 in stock

$

700.00

$

700.00
Chase
2906
13,700
2006 Dec
11th
22nd-29th

1 in stock

$

700.00

$

475.00
Capital One
2894
5,000
2011 May
2nd
13th-20th

4 in stock

$

475.00

$

475.00
Barclays
2893
21,000
2015 Dec
11th
22nd-29th

5 in stock

$

475.00

$

600.00
Chase
1328
31,100
2015 Dec
15th
26th-3rd

2 in stock

$

600.00

$

325.00
Chase
2428
20,800
2018 May
24th
6th-13th

1 in stock

$

325.00

$

450.00
Chase
2881
30,000
2017 Nov
16th
27th-4th

3 in stock

$

450.00

$

265.00
Barclays
2875
10,500
2017 Jun
2nd
13th-20th

6 in stock

$

265.00

$

475.00
Barclays
2873
23,000
2016 Mar
30th
11th-18th

5 in stock

$

475.00

$

600.00
Discover
2860
10,000
2011 May
30th
11th-18th

1 in stock

$

600.00

$

575.00
Bank Of Hawaii
2813
25,000
2014 Sep
2nd
13th-20th

4 in stock

$

575.00

$

400.00
Chase
2839
10,000
2015 Apr
6th
17th-24th

1 in stock

$

400.00

$

800.00
Chase
2816
30,000
2010 Jul
8th
19th-26th

1 in stock

$

800.00

$

575.00
Discover
2812
15,000
2011 Nov
14th
25th-2nd

1 in stock

$

575.00

$

350.00
Barclays
2802
21,000
2017 Jan
14th
25th-2nd

4 in stock

$

350.00

$

350.00
Capital One
2801
20,000
2018 Jan
17th
28th-5th

2 in stock

$

350.00

$

500.00
Chase
2781
10,000
2012 Oct
15th
26th-3rd

1 in stock

$

500.00

$

300.00
Chase
2780
12,000
2017 May
10th
21st-28th

2 in stock

$

300.00

$

575.00
Barclays
1041
15,000
2011 Jan
30th
11th-18th

4 in stock

$

575.00

$

535.00
Bank Of America
2170
20,000
2015 Nov
25th
7th-14th

1 in stock

$

535.00

$

350.00
Barclays
2759
20,000
2017 Jul
7th
18th-25th

2 in stock

$

350.00

$

350.00
Chase
2758
24,000
2017 Jul
8th
19th-26th

1 in stock

$

350.00

$

850.00
Discover
2757
10,200
2000 May
9th
20th-27th

1 in stock

$

850.00

$

600.00
Capital One
2746
20,000
2014 Feb
3rd
14th-21st

1 in stock

$

600.00

$

250.00
Barclays
1132
12,000
2018 Jun
26th
8th-15th

2 in stock

$

250.00

$

330.00
Barclays
2552
30,000
2018 Jun
14th
25th-2nd

1 in stock

$

330.00

$

415.00
Chase
1388
10,000
2014 Jun
2nd
13th-20th

2 in stock

$

415.00

$

250.00
Barclays
1207
14,000
2018 Jul
11th
22nd-29th

4 in stock

$

250.00

$

275.00
Barclays
2694
6,450
2016 Apr
6th
17th-24th

6 in stock

$

275.00

$

400.00
Barclays
2683
15,000
2014 Oct
24th
6th-13th

4 in stock

$

400.00

$

750.00
Chase
2649
13,000
2007 Aug
18th
29th-6th

1 in stock

$

750.00

$

425.00
Capital One
2147
30,000
2018 May
27th
9th-16th

1 in stock

$

425.00

$

600.00
Chase
2606
16,000
2011 Nov
16th
27th-4th

1 in stock

$

600.00

$

275.00
Chase
2605
11,000
2018 Feb
12th
23rd-30th

1 in stock

$

275.00

$

475.00
Barclays
2593
20,000
2017 May
7th
18th-25th

1 in stock

$

475.00

$

675.00
Chase
2581
30,000
2016 Jun
23rd
5th-12th

1 in stock

$

675.00

$

280.00
Barclays
1364
17,000
2018 Jan
9th
20th-27th

3 in stock

$

280.00

$

250.00
Capital One
2541
3,500
2016 May
14th
25th-2nd

1 in stock

$

250.00

$

375.00
Capital One
2540
3,500
2013 Jun
25th
7th-14th

1 in stock

$

375.00

$

225.00
Barclays
2242
9,000
2018 May
4th
15th-22nd

4 in stock

$

225.00

$

550.00
Bank Of America
2495
10,000
2012 Mar
14th
25th-2nd

1 in stock

$

550.00

$

650.00
Chase
2494
29,500
2016 May
2nd
13th-20th

1 in stock

$

650.00

$

410.00
Barclays
2491
8,500
2013 Feb
24th
6th-13th

4 in stock

$

410.00

$

275.00
Bank Of America
2489
14,000
2017 Oct
10th
21st-28th

1 in stock

$

275.00

$

265.00
Barclays
1295
12,500
2018 Mar
11th
22nd-29th

5 in stock

$

265.00

$

290.00
Barclays
2478
10,500
2016 Dec
30th
11th-18th

1 in stock

$

290.00

$

485.00
Bank Of America
2477
20,200
2016 Aug
8th
19th-26th

1 in stock

$

485.00

$

245.00
Barclays
1067
8,000
2017 Oct
7th
18th-25th

2 in stock

$

245.00

$

425.00
Barclays
1147
30,000
2018 Mar
14th
25th-2nd

5 in stock

$

425.00

$

625.00
Barclays
2437
30,000
2014 Oct
27th
9th-16th

2 in stock

$

625.00

$

350.00
Chase
2427
23,800
2017 Nov
14th
25th-2nd

1 in stock

$

350.00

$

350.00
Barclays
2426
20,000
2017 Dec
22nd
4th-11th

3 in stock

$

350.00

$

250.00
Barclays
2365
20,000
2018 Apr
2nd
13th-20th

3 in stock

$

250.00

$

750.00
Chase
2107
11,000
2006 Apr
1st
12th-19th

1 in stock

$

750.00

$

850.00
Capital One
2415
11,000
2000 Dec
12th
23rd-30th

1 in stock

$

850.00

$

450.00
Barclays
2403
20,000
2016 Apr
6th
17th-24th

2 in stock

$

450.00

$

750.00
Chase
2401
19,000
2010 Jan
23rd
5th-12th

2 in stock

$

750.00

$

475.00
Barclays
2138
16,000
2014 Mar
7th
18th-25th

4 in stock

$

475.00

$

750.00
Discover
2390
24,100
2011 May
12th
23rd-30th

1 in stock

$

750.00

$

500.00
Capital One
2389
4,000
2009 May
22nd
4th-11th

1 in stock

$

500.00

$

425.00
Capital One
2388
1,150
2007 Dec
11th
22nd-29th

1 in stock

$

425.00

$

265.00
Barclays
1357
12,500
2017 Dec
14th
25th-2nd

2 in stock

$

265.00

$

350.00
Barclays
2377
10,000
2017 Jan
7th
18th-25th

4 in stock

$

350.00

$

425.00
Bank Of America
2376
18,700
2016 Dec
13th
24th-1st

1 in stock

$

425.00

$

335.00
Barclays
2375
15,000
2016 Feb
23rd
5th-12th

3 in stock

$

335.00

$

365.00
Chase
2342
10,000
2014 Jul
12th
23rd-30th

1 in stock

$

365.00

$

525.00
Chase
2363
25,000
2016 Apr
1st
12th-19th

2 in stock

$

525.00

$

425.00
Capital One
2320
30,000
2017 Oct
6th
17th-25th

1 in stock

$

425.00

$

250.00
Barclays
2318
15,000
2017 Oct
24th
6th-13th

1 in stock

$

250.00

$

275.00
Barclays
2298
17,000
2017 Aug
5th
16th-23rd

2 in stock

$

275.00

$

425.00
Capital One
2297
1,750
2006 Sep
2nd
13th-20th

1 in stock

$

425.00

$

335.00
Chase
1162
20,000
2017 Aug
26th
8th-15th

1 in stock

$

335.00

$

350.00
Discover
2274
3,000
2013 Jun
20th
2nd-9th

1 in stock

$

350.00

$

350.00
Capital One
2272
1,650
2012 Aug
13th
24th-1st

1 in stock

$

350.00

$

350.00
Capital One
2271
1,650
2012 Mar
13th
24th-1st

1 in stock

$

350.00

$

325.00
Barclays
1205
20,100
2018 Feb
7th
18th-25th

4 in stock

$

325.00

$

750.00
Capital One
2199
10,000
2005 Aug
27th
9th-16th

1 in stock

$

750.00

$

800.00
Chase
2062
22,500
2010 Jun
10th
21st-28th

2 in stock

$

800.00

$

750.00
Chase
2056
12,000
2006 May
30th
11th-18th

1 in stock

$

750.00

$

190.00
Barclays
2156
4,000
2017 Sep
13th
24th-1st

3 in stock

$

190.00

$

275.00
Barclays
2146
5600
2017 May
24th
6th-13th

1 in stock

$

275.00

$

430.00
Discover
2135
9,500
2014 Jan
22nd
4th-11th

1 in stock

$

430.00

$

750.00
Chase
2120
7,500
2006 Apr
3rd
14th-21st

1 in stock

$

750.00

$

325.00
Chase
2072
22,000
2017 Jul
5th
16th-23rd

1 in stock

$

325.00

$

400.00
Capital One
2071
8,500
2017 Aug
2nd
13th-20th

2 in stock

$

400.00

$

600.00
Barclays
1506
23,600
2013 Oct
7th
18th-25th

3 in stock

$

600.00

$

800.00
Capital One
1500
20,000
2008 Dec
2nd
13th-20th

1 in stock

$

800.00

$

750.00
Discover
1385
7,400
2007 Oct
12th
23rd-30th

2 in stock

$

750.00

$

475.00
Barclays
1372
20,000
2016 Dec
5th
16th-23rd

5 in stock

$

475.00

$

275.00
Barclays
1369
10,000
2017 Jun
11th
22nd-29th

5 in stock

$

275.00

$

390.00
Discover
1368
16,100
2015 Sep
13th
24th-1st

1 in stock

$

390.00

$

880.00
Chase
1361
16,500
2007 Dec
20th
2nd-9th

1 in stock

$

880.00

$

625.00
Chase
1360
28,000
2014 Jun
28th
10th-17th

1 in stock

$

625.00

$

510.00
Discover
1346
5,200
2010 Jul
16th
27th-4th

2 in stock

$

510.00

$

1,000.00
Discover
1329
20,500
2007 Nov
24th
6th-13th

1 in stock

$

1,000.00

$

325.00
Barclays
1293
20,000
2017 Jul
14th
25th-2nd

3 in stock

$

325.00

$

600.00
Chase
1292
20,000
2014 Jun
10th
21st-28th

2 in stock

$

600.00

$

475.00
Discover
1013
35,000
2017 May
12th
23rd-30th

2 in stock

$

475.00

$

475.00
Capital One
1012
30,000
2017 May
30th
11th-18th

1 in stock

$

475.00

$

600.00
Discover
1040
12,000
2008 Jun
10th
21st-28th

1 in stock

$

600.00