Any smart consumer will check the reviews for a product or company before buying. When it comes to buying tradelines, it's especially important to pay attention to tradeline company reviews, since, unfortunately, there are many dishonest companies in the industry.
At Tradeline Supply Company, LLC, we value integrity and transparency, so in this article, we're showing you the good, the bad, and the ugly of our Tradeline Supply Company reviews.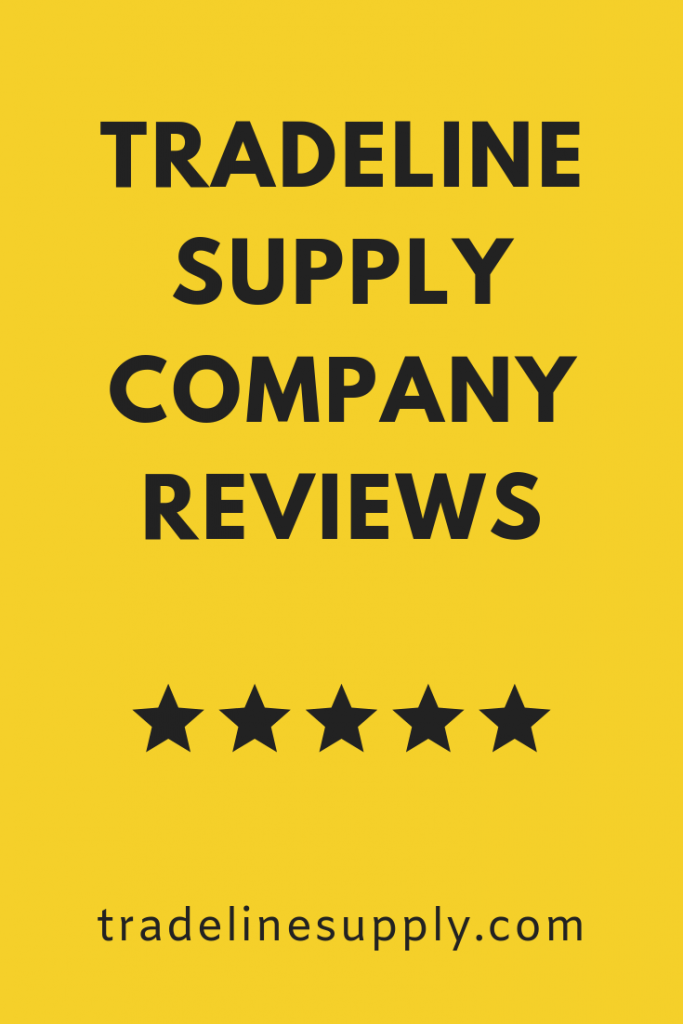 Update: August 1st, 2019
As of this update, all of the fake reviews have been removed from Trustpilot, although there are still several left on Google.
Fortunately, the endless stream of dishonest reviews finally came to an end when the company behind the campaign was recently shut down by the federal government.
If not for the federal crackdown on this company, we would probably still be getting fake negative reviews from them every day.
The company was ordered to cease operations because, among other things, they lied to consumers, charged illegal fees, advised consumers to mislead the credit bureaus, and did not make the proper disclosures about their services.
We'd like to thank everyone who has left an honest review so far as well as those who have been willing to look past the fake reviews and try out our service.
If you have done business with us and have not yet written a review of Tradeline Supply Company, LLC, we would appreciate if you could take a few moments to help out our company as well as other consumers by writing an honest review on Google or Trustpilot.
We are now an accredited member of the Better Business Bureau with a verified rating, so you can also rate us on our BBB profile.
If you are interested in the story of how we were attacked by a competitor with a flood of fake reviews, as well as our response to our legitimate positive and negative reviews, then keep reading the original article below.
Fake Negative Reviews
Sadly, we've been the target of a long-term smear campaign by a competitor. They have attempted to damage our reputation by leaving us many fake negative reviews over the course of several weeks.
Unfortunately for this competitor, their black-hat tactics have exposed their fake reviews as fraudulent.
For one, most of the reviews don't even make sense or apply to our business at all. Anyone who has interacted with our company will recognize these reviews as fraudulent and irrelevant.
Let's take a look at this Facebook review we received.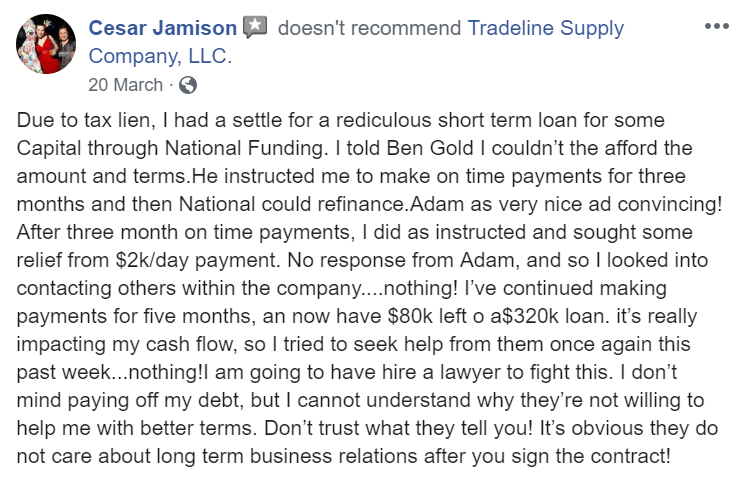 The review references a business called "National Funding" and individuals named "Ben" and "Adam." We do not have any individuals by these names employed at Tradeline Supply Company, LLC, nor we do not do any type of loans or funding, not to mention the fact that this review didn't even get the name of our company right! This fake review has clearly been copied and pasted onto our page for the sole purpose of bringing down our rating.
Here's another fake review we got on Facebook:

We have never employed or interacted with a person by this name. This false review is inaccurate and irrelevant to our business.
If you take a look at this reviewer's profile, you'll notice that their only other activity on Facebook was leaving a 5-star review for a credit repair company. It appears that this is simply a fake profile created to leave a positive review for someone's own company while leaving a negative review for us.
We have also been flooded with a high volume of false negative reviews on the review site ironically named Trustpilot. It has been impossible to get all of the fake reviews removed from this site.
Every review on our Trustpilot profile is a false negative review created by a competitor to hurt us.
However, like the examples shown above, these reviews can easily be recognized as fraudulent.
Here's one of the fake reviews we got on this site: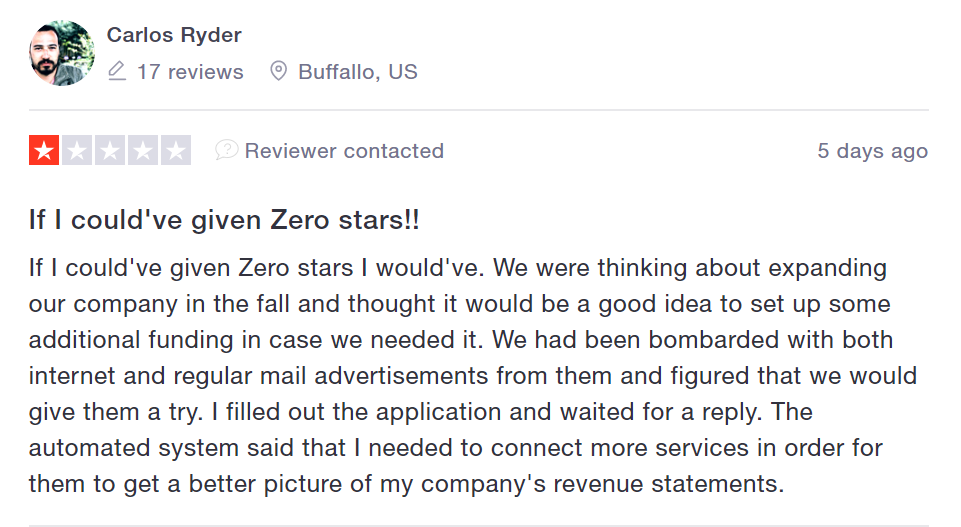 Again, we do not provide the services described in this review, so it does not apply to our business. We also do not do any advertising through mail.
If you navigate to this reviewer's profile, you can see that they have left one-star reviews for a number of companies in the same industry, many of which have been flagged as fake. Here's just a sample of these many negative reviews:






Here's another gem from Trustpilot: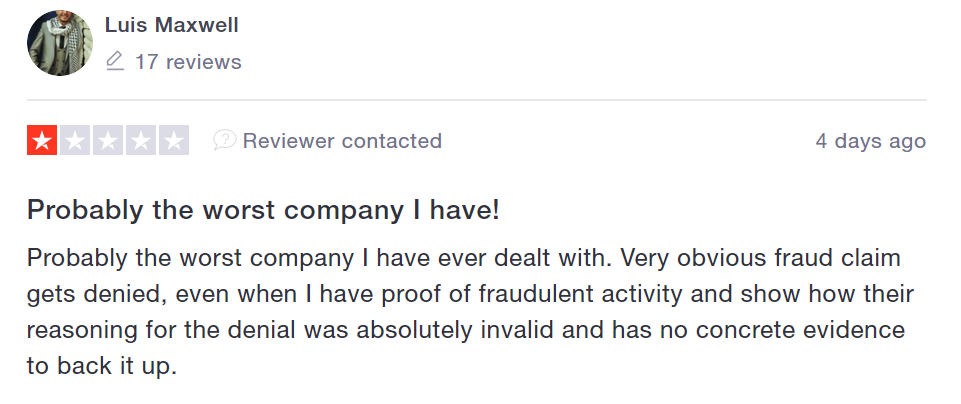 This is another review that is simply irrelevant to our business. Again, the reviewer is obviously a fake profile created to leave negative reviews for many credit repair and tradeline companies. In fact, they have posted negative reviews for the same companies as the first reviewer.
Notice that two of the reviews from this profile are exactly the same, word for word.
Whoever is making these fake profiles to leave false reviews seems to be targeting other companies in addition to Tradeline Supply Company, LLC. It would be hard to believe that this is just a coincidence.
Another point to note is that when these reviews are not obviously written about an entirely different business, they are extremely vague and do not mention our company name, which is a sign that they were written for the purpose of copying and pasting for many different companies.
It Is Difficult, Time-Consuming, and Costly to Fight Fake Reviews
The frustrating thing about being the target of a fake review campaign is that it is extremely difficult to get the false reviews removed, even though review site guidelines prohibit this type of activity.
We reported the irrelevant and disingenuous reviews on Facebook, but they were never removed, so we had to hide the review section of our page altogether, including the genuine reviews from real customers.
On Trustpilot, 16 fake reviews were flagged and removed, but this was only a fraction of them.
After contacting the Trustpilot quality and compliance team about the remaining fake reviews, we received this response: "We've investigated the review and found that it doesn't contravene our guidelines for the reason it was reported. Therefore, the review has been placed back online. If you disagree with the content of the review, we recommend that you engage with the reviewer."
If you read Trustpilot's guidelines, however, you'll see that they explicitly prohibit fabricated and defamatory reviews.
Unfortunately, enforcement of this policy is severely lacking.
Our falsified reviews on Google were temporarily taken down, only to reappear again not long after. Our star rating never recovered to where it was before the attack, even when the fake reviews were hidden.
As you can see, trying to fight false reviews is an uphill battle.
It's a shame that not only are we constantly under attack with these fake reviews, but that we have no way to remove them or stop more from appearing.
We know that the large number of defamatory reviews affects consumers' perceptions of our company, because people often ask us about them, saying, "I'm interested in buying tradelines from your company, but I'm concerned about the bad reviews I've seen online."
We do our best to address these concerns by explaining the situation, but it is impossible to know how many people we do not get a chance to help because they were so turned off by the fake bad reviews that they went somewhere else.
Our Competitor Writes Fake Positive Reviews for Their Own Company
Besides slandering other businesses online, the competitor behind this smear campaign also creates hundreds of fake positive reviews for their own business.
First of all, no tradeline company or credit repair company has hundreds of reviews, let alone hundreds of perfect 5-star ratings. It is a niche industry, and it is difficult to get reviews from customers. Therefore, having 100+ amazing reviews is definitely a sign that many of the reviews are probably fake.
So if you see statistics like this, for example…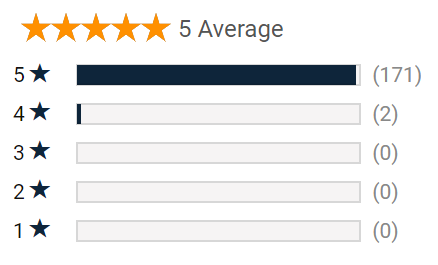 Or this…

You should be very skeptical. Especially when the reviews for the same company on other forums look more like this:

We Understand Our Legitimate Negative Reviews
Every business, no matter how great it may be, is bound to get negative reviews from time to time. It's a fact of life that it is simply not possible to please everyone.
We do our best to provide consumers with all the information they need to make the correct decision when it comes to buying tradelines. That's why we are constantly publishing high-quality content about tradelines and provide free resources such as our tradeline calculator and tradeline buyer's guide.
Unfortunately, not everyone takes advantage of these resources, and some people choose tradelines that are not a good fit.
Since our online platform is so easy to use, consumers are empowered to make a purchase without ever having to talk to a salesperson. This is one of the best things about our platform, yet it can also be a problem sometimes. People can order tradelines without fully understanding how to choose the best tradeline for their situation, and this is where issues can arise.
For example, one reviewer wrote on both Facebook and Google that his "credit went up nothing at all." It is unfortunate that this happened, and we sympathize with the reviewer's frustration. We stand behind our product with a money-back guarantee if the tradeline does not post to at least two out of the three credit bureaus.
However, what happened in this case is that the tradeline actually did post as guaranteed. Furthermore, we confirmed that the customer's credit score did go up with at least two out of the three bureaus.
If this customer had familiarized himself with our product and our guarantees, he would have been in a better position to choose a tradeline that would have provided the results he wanted.
Unfortunately, he chose a tradeline that was only 8 months old, and as we have said before, age is the most powerful factor of a tradeline. If you want to get good results, you need to focus on age.
Choosing a tradeline that is not a good fit for your credit file can certainly cause you to not get the results you want. If your credit history is longer than 8 months, an 8-month old tradeline is likely not going to be very helpful to you.
That's why we advocate for always using the tradeline calculator before buying to see how a tradeline could impact your average age of accounts, as well as taking advantage of the other resources in our knowledge center.
In addition, we do not advertise our tradelines as a way to boost credit scores. Depending on what is in your credit file and which tradeline(s) you choose, your credit score could stay the same or even go down. We do not guarantee results beyond getting a tradeline to post and we do not provide credit consultations, so it is up to the customer to understand how tradelines work before investing in one.
On the other hand, if customers have questions about how tradelines work or how to choose a tradeline, our customer service representatives are always happy to answer tradeline-related questions.
For anyone interested in buying tradelines, we recommend first learning as much as possible about tradelines and how to use them effectively. Reading the following articles will help give you a great foundation of knowledge.
Best Tradeline Reviews
Despite receiving so many false negative reviews and even a few genuine negative reviews, we still stand out from the competition as the tradeline company with the highest standards of quality, customer service, and integrity.
Authentic reviews from our clients consistently mention the quality of our tradelines, our exceptional customer service, and our high level of professionalism.
"I purchased a tradeline because I had a very new credit history – about 4 months. It hit my account in less than 20 days and boosted my score over 100 points. I was LITERALLY ASTONISHED. Thanks guys! Highly recommend!"

"So far, Tradeline Supply Company has proven to be in a class of its own with excellent prices for the best tradelines."

"Bought one and was posted, just like promised! Will buy another and post review again! So far it's working great!"

"I would recommend anyone who is trying to boost up their credit to this company…if you buy something cheap, then what do you expect? I spent over 3k for all 4 tradelines, and they gave me great discount."

"I've used this company many times and had nothing but great results."

"So far I am liking this company when I called was not pushed…I was given straight facts and I can really appreciate that I will be using this company for sure…and sure is nice to [talk to] some one on a phone call…"

Tradeline brokers appreciate our customer service and love getting even better results for their clients using our tradelines.
"Have dealt extensively with Tradeline Supply Company over the past six months and they have exceeded my expectations….would strongly recommend their services…this firm is knowledgeable, trustworthy, and dedicated to customer service…you will not be disappointed working with this firm."

"Always professional and informative. I will be applying to be a white label broker with them."

"I use Tradeline Supply Frequently, For My Clients Once They Gone Through Our Credit Counseling Program, And They Need To Build Credit History And Boost Their Scores, We Call On Tradeline Supply, They Have Literally Help Us Gain A Reputation With Realtors And Lenders As The Company That Closes !!"

And our credit partners value our integrity and professionalism.
"I have contacted many different companies in the tradeline space, & have identified Tradeline Supply Company as being the most professional & demonstrating the highest level of integrity. Whether you're interested in being added to a high-quality seasoned tradeline, or if you have quality tradelines to list, you can't go wrong with these guys."

Our Reviews Show Why Tradeline Supply Company, LLC Is the Best Tradeline Company
We love to read reviews from clients about how much we have helped them. Our authentic positive reviews speak for themselves.
"…I am so blessed me and my family through the creation of this company and all that it does for me and the community."

"Man these guys are the real deal. They did EXACTLY what they said they were going to do."

"Thanks Tradeline Supply for helping me start off 2019 with new credit"

"Tradeline Supply is an amazing company. I have purchased a tradeline, it was on my credit report just like you said. There are so many scammers out there but your company is one of the best."

Conclusions on Tradeline Reviews
As we have shown, there are unfortunately a lot of dishonest tradeline reviews online, both negative and positive. Although Tradeline Supply Company, LLC has been the target of a fake review smear campaign, we can assure you that we have never posted false reviews of any kind.
We do not believe in writing fake positive reviews about ourselves nor fake negative reviews about other companies. Unlike most other tradeline companies, you can trust that all of our positive reviews have been written by real clients.
When reading tradeline company reviews, remember to approach them with a sense of skepticism and keep an eye out for the warning signs of fake reviews so you can better decide whether to trust the company's reviews. We hope that this article has provided you with some guidance on understanding tradeline reviews and choosing the best tradeline company.