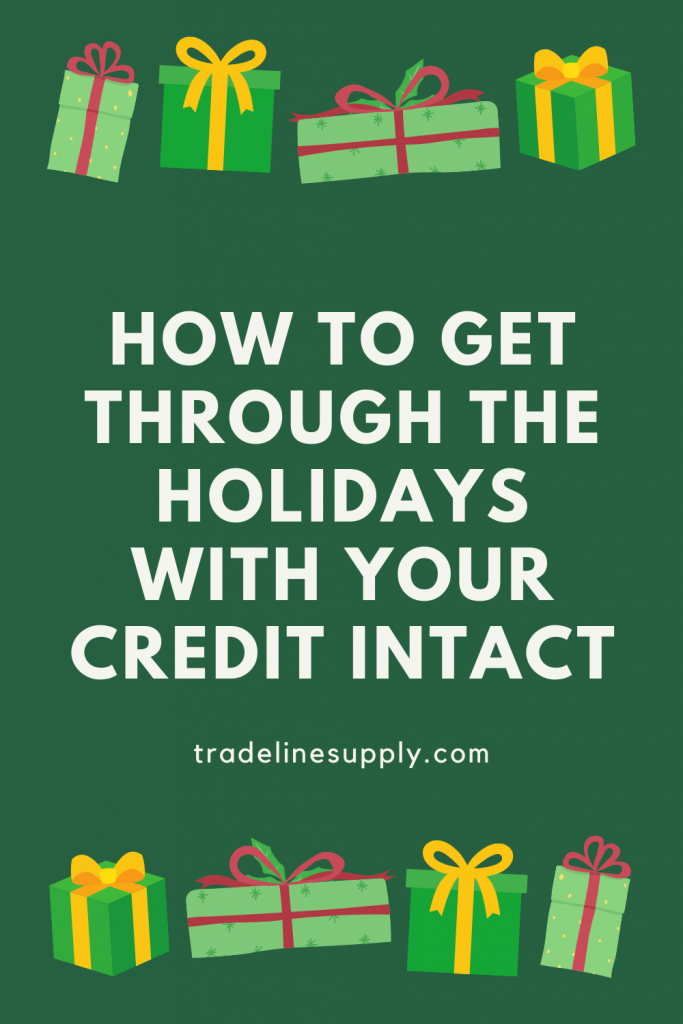 For many of us, the holidays are an expensive time of year.
With so many Americans struggling financially, it's more important than ever to go into the holiday season with a smart strategy to keep your credit and finances intact.
Here are some tips on how to make it through the holiday season without going overboard on spending, hurting your credit, and derailing your financial goals.
Create a Holiday Spending Plan
First, you will need to create a budget, which will serve as a plan to help you ensure that where your money goes is aligned with your priorities.
When creating a budget, it's important to be honest with yourself and realistic about how much things cost and how much you can reasonably afford to spend. If your budget is unrealistic, it's tempting to throw your hands up and give up on budgeting entirely when you inevitably go over your limit.
Some people may find it to be easier or more efficient to use a spreadsheet or an app for this task, while others may prefer to draw up their budget simply using pen and paper and a calculator. There is no right or wrong way to go about budgeting, so choose a method that works best for you.
1. List All of Your Expenses
Make a list of everything you can think of that you will need to spend money on this holiday season. This may include things like gifts for your loved ones, decorations for your home, food, drinks, and potentially travel expenses.
2. Determine the Cost of Each Item
For each expense on your list, come up with a realistic number that you would be comfortable spending. You may need to work around certain fixed expenses, such as plane tickets if you are traveling.
With more flexible categories, such as gifts, you have more freedom to decide on a number you can stick to based on what you expect things to costs and the upper limit that you do not want to exceed.
Be as specific as you can with this. For example, instead of just choosing a total amount to spend on gifts for everyone you want to buy gifts for, choose a specific dollar amount that you think is appropriate to spend on each person on your list.
It may help to do some research during this stage so that you don't get sticker shock down the road if something costs more than you expected.
3. Crunch the Numbers and Add Some Cushion
Once you have an estimate for every expense, add them all together to get the total figure you should be aiming for.
If you can, add a little bit of cushion to your total budget (for example, 10% of your total) in case you end up exceeding your expected target.
Prepare for the Holidays by Saving Money in Advance
Ideally, it would be best to begin setting money aside specifically for the holidays in advance so that you don't have to go into debt to cover the extra expenses during months of unusually high spending.
An easy way to do this is to count the number of paychecks you will receive before the holidays and divide the total dollar amount you calculated in step 3 above by the number of paychecks. This gives you the amount of money from each paycheck that you should set aside to use for this specific purpose.
You can do this by setting up a direct deposit from your paycheck into a separate savings account designated for the holidays, scheduling automatic recurring transfers from your checking account to the savings account, or even withdrawing cash every time you get paid and putting it in different envelopes labeled for each expense.
Shop Smart When Doing Your Holiday Shopping
With a little extra research and preparation, you can stretch your dollars by snagging some of the items on your list for a lower price or getting cash back on your purchases.
Start Shopping Early to Spread Out Your Spending
One helpful strategy is to even out your spending over a longer time span instead of blowing up your budget to an extreme in November or December. This will allow you to gradually pay back whatever you spend on credit as opposed to receiving one huge bill that you might struggle to pay off in one month.
Since retailers have been competing with each other to start their Black Friday and Cyber Monday sales earlier and earlier each year, you may have some additional time to shop for gifts at a discount before the holidays officially arrive. Many stores are also putting out early previews or announcements of their best deals before they actually start, which is also helpful for planning ahead.
Those who like to prepare even further in advance can also keep an eye out for good finds throughout the year and set them aside until they are needed. Looking back at the timing of sales during the previous year allows you to have a rough idea of when those promotions will come around again. Plus, many websites, apps, and browser extensions can track the price history of items on your shopping list and help you determine the best time to buy.
Another advantage to getting started shopping early is that it helps to ensure that your orders will arrive on time if you are ordering online and having things shipped in the mail.
Track Your Spending As You Go
Obviously, it is much more difficult to stick to a budget if you are not paying attention to how much you are spending. Keep track of your running total as you shop and make adjustments as needed to fit within your budget.
Shop Online Instead of In-Store
Shopping online rather than braving the chaos in stores can make it easier to find and take advantage of the best deals.
For example, there are price-comparing websites that allow you to quickly find the merchants that have what you are looking for at the lowest price as well as coupon code sites and browser extensions that help you get an even deeper discount.
In addition, there are many online cash back programs that give you a portion of what you spend if you click through their website or app before shopping.
If you know ahead of time that you want to buy a specific item for the holidays, use an app or extension to set up price alerts. It will automatically notify you when the item goes on sale so you can buy it at the best time.
Take Advantage of Price Matching and Price Adjustments
Many stores offer price-matching policies, which means they will match the prices of other retailers if you find an item at a lower price somewhere else. Some stores also provide price adjustments after the fact if something you bought went on sale right after you purchased it.
Black Friday and Cyber Monday deals are usually excluded from price-matching programs, but the policies may be applicable to the shopping you do at other times of the year.
In addition to checking with the stores you shop at, you can also check with your credit card issuers, since some credit cards come with similar price protection benefits.
Purchase Discounted Gift Cards
Another way to save money on your purchases is to check gift card websites to see if discounted gift cards are available for the stores where you plan to shop. This helps your money stretch further since you are paying less than what the gift card is actually worth.
Rack Up Rewards
For those who have credit cards with rewards programs, this could help you make the most of your holiday spending, particularly if you are looking to meet a minimum spend requirement in order to qualify for a signup bonus.
One extremely important caveat is that this is not recommended for anyone who has difficulty limiting credit card spending. Going over your budget and getting into debt is certainly not worth the small amount of rewards points you could potentially receive.
Consider Using Cash if Shopping In-Store
If you do need to visit a physical store, consider bringing cash with you instead of a credit card or debit card. This is a useful strategy because it forces you to limit your spending to only as much cash as you have on hand.
There is also a psychological difference between paying with cash and paying with plastic. Research has demonstrated that consumers are willing to spend significantly more when they are paying with credit cards instead of parting with their own hard-earned cash.
Get Creative With DIY Gifts
Making gifts yourself is a great way to not only cut down on holiday spending but also express your creativity and add a personal touch that your loved ones may appreciate more than a store-bought gift or gift card.
Protect Your Credit
In a perfect world, no one would have to go into debt in order to get through the holidays. In reality, however, over a quarter of Americans say they have gone into debt because of holiday spending.
If this is the case for you, try your best to protect your credit and finances during this difficult time by making all of your payments on time.
The best thing for your credit would be to keep your utilization ratios low by quickly paying off your holiday spending, but if that is not an option for you, try to at least make the minimum payments on time in order to preserve a positive payment history. Even one missed payment can have a sizeable effect on your credit score.
Your credit card issuers may offer financial hardship programs if you truly cannot afford to pay your bills, so call them and ask what your options are instead of just skipping a payment.
Video: Holiday Shopping—Why It Makes Your Credit Scores Take a Hit
Learn more about protecting your credit scores from the impacts of holiday spending in this Credit Countdown video on our YouTube channel!
If you learned something from this guide to preparing your finances for the holidays, please share it with others who might find value in this information. Spend wisely and enjoy your festivities this holiday season!