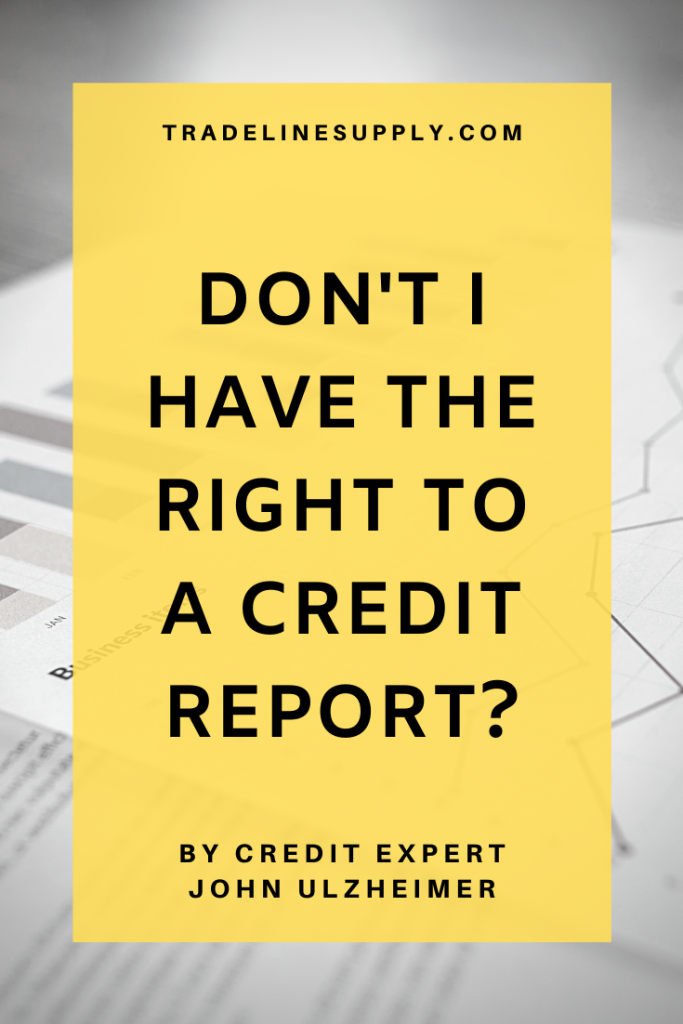 This article was contributed by credit expert John Ulzheimer.
When consumers ask me questions about their credit reports it's normally about how to get an item removed or corrected. Sometimes, however, I do get questions about having information added to a credit report. This type of question brings up an interesting concept, which is whether or not consumers have the right to certain credit report information or even the right to a credit report at all.
The Fair Credit Reporting Act
The federal statute that governs the credit reporting agencies' actions, the use of credit reports, and the furnishing of information to the credit reporting agencies is the Fair Credit Reporting Act or "FCRA." The FCRA is a consumer protection statute that has been around since the early 1970s and confers rights to consumers as it pertains to their credit reports. The Act has been amended dozens of times.
There is no language in the FCRA that affirmatively gives consumers the right to have a credit report. And, there's also no language in the FCRA that gives consumers the right to demand that they do not have a credit report. The act is silent on those two issues.
The Voluntary System
What this means is you cannot demand that a credit reporting agency push a button, delete your credit report information, and then never again collect information about your credit obligations. Conversely, you also cannot force a credit reporting agency to reach out to your bank or other service providers, get information about how you manage your accounts, and then add them to your credit reports.
There are some very limited scenarios with federally guaranteed student loans and their servicers. The loan servicers may be required by the Department of Education to credit report debtor obligations, but that's not the same as a lender choosing to report, or not to report. That's entirely voluntary.
From a more granular perspective, you also don't have the right to identical credit reports and certainly, you don't have the right to identical credit scores across the credit reporting agencies and the various brands of credit scores. So, you cannot demand that your credit reports at Equifax, Experian, and TransUnion be the same and you cannot demand that your FICO and VantageScore credit scores are identical.
In fact, you don't even have the right to a credit score, at all. There are certain minimum criteria that must be met before your credit report will even qualify for a credit score. When your credit report is created, a process that normally occurs the first time you apply for credit, it will not qualify for a credit score because there isn't enough information to make it scorable.
Consistency, or Inconsistency
Another interesting aspect of credit reporting and our control (or lack of control) over what goes on and what does not go on our credit reports is the issue of consistency. For example, I can be added as an authorized user on Credit Card A and also added as an authorized user on Credit Card B, and there's no guarantee that both card issuers will choose to report the account on my credit reports.
There's also no guarantee that the issuer of Credit Card A will credit report all of their authorized users. They may choose to report some of them, and then choose to not report the rest. There's nothing I can do about this. There's nobody to complain to about the consistency issues and you can't leverage your rights to consistency, because you don't have any.
You also cannot control whether or not any of your lenders report to all three of the credit bureaus. For example, you may have a lender that reports to Equifax, but not to Experian and TransUnion. You can come up with any number of other combinations, and those would be true as well.
This can be an issue with the use of secured credit cards, which are a common tool used by consumers to build or rebuild their credit. Notwithstanding the fact that becoming an authorized user on a loved one's credit card is a much better alternative, there's no guarantee that your secured card issuer will report to any of the credit bureaus.
Users of Credit Reports
There's one final issue to cover on this topic of consistency. The users of credit reports, as in lenders and debt collectors, also don't have the right to use credit reports or to furnish information to any of the credit bureaus. All users of credit reports had to apply for service with the credit bureaus and then go through a process of consideration and evaluation by the credit bureaus before their accounts were approved.
And even if a company has an account with the credit bureaus, buys credit reports, and furnishes information to the credit bureaus there's no guarantee that they will always have that account. The credit bureaus can choose to stop doing business with a lender or a debt collector. They can also choose to purge data provided by a former client. And like consumers, there's nothing they can do to force a credit bureau to change their mind.
John Ulzheimer is a nationally recognized expert on credit reporting, credit scoring, and identity theft. He is the President of The Ulzheimer Group and the author of four books about consumer credit. Formerly of FICO, Equifax and Credit.com, John is the only recognized credit expert who actually comes from the credit industry. He has 27+ years of experience in the consumer credit industry, has served as a credit expert witness in more than 370 lawsuits, and has been qualified to testify in both Federal and State courts on the topic of consumer credit. John serves as a guest lecturer at The University of Georgia and Emory University's School of Law.
Disclaimer: The views and opinions expressed in this article are those of the author John Ulzheimer and do not necessarily reflect the official policy or position of Tradeline Supply Company, LLC.